We're big, fast and reliable.  And we believe that great customer service is what keeps customers coming back.  We answer the phone, we tailor specialized Black Car programs just for you but most of all we believe that every customer is important. Whether you are traveling for business or pleasure we provide consistently great service in the metro New York market. 
The last thing you want to worry about is your Black Car Company.

And that's exactly why you should be doing business with us.
Over 1.5 million happy customers every year

1,500 knowledgeable and courteous drivers

Fixed pricing so there are no surprises

Multiple service levels to meet any customers needs

The best insurance coverage in the industry

We're open 24 hours a day 365 days a year
Compare our fixed pricing from Manhattan to JFK
Sure, Uber might be cheaper if you go from Penn Station to Madison Square Garden.
But once you start to go places we're a better deal. 
To JFK from Manhattan:
Our Black Car is $85.20.  Every time.  Including taxes and tolls.
Uber X states it ranges between "$58 and $76".  That's before taxes and tolls and if you get stuck in traffic with them the 35 cents per minute keeps on adding up.
Our Executive Sedan costs $96.34 every time.
Uber Black states it ranges between $114 and $149, before taxes and tolls and the 65 cents per minute bad traffic fee......
Or you could just wait for them to surge....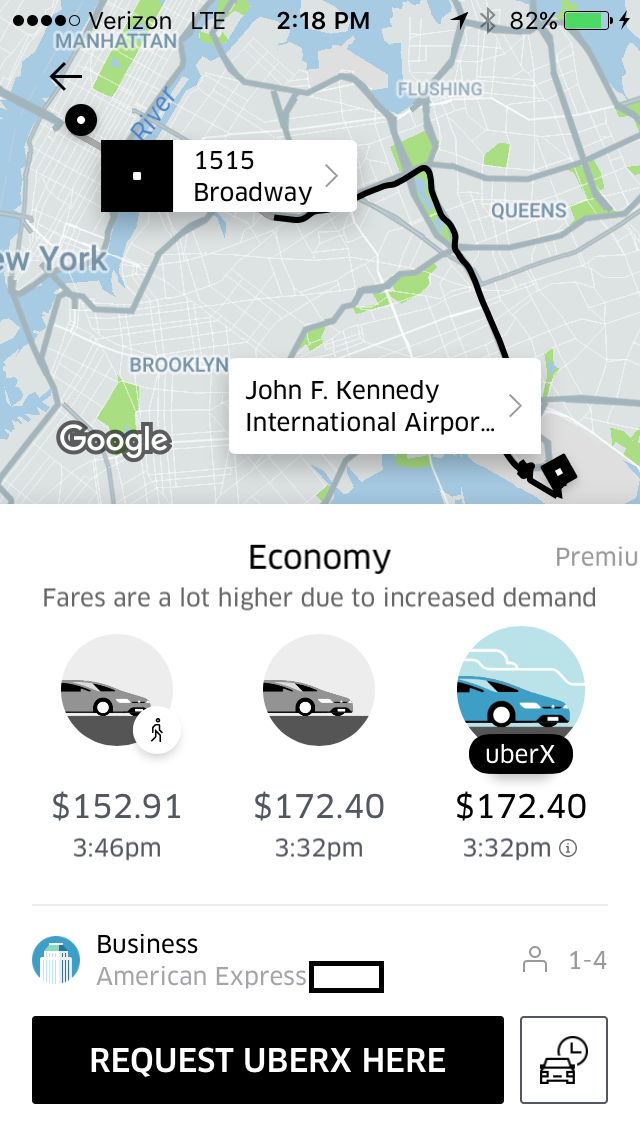 Corporate Black Car Services
We provide safe and reliable black car services in New York to thousands of passengers in the New York Metro market every day. We provide service to companies large and small, from fashion to finance and have about three times the fleet size of our nearest competitor. We also assist companies who outsource some or all of their ground transportation management/programs. Please contact us so we may tailor a program to meet your Black Car service needs.
Premium Executive Services
Blue Line Executive Car (800-344-2583) and Avalon Executive Car (800-644-1654) offer upscale executive sedan service specializing in metro New York airport transfers, providing the amenities of a limousine service with the cost effectiveness of a Black Car service. Why spend full price to take a limo service in New York City when you'll find we provide comfortable and reliable executive sedans at far more reasonable rates?
Regional
As the New York Metropolitan area grows, the need for ground transportation services has grown along with it. Throughout the tri state area we have satellite offices to provide customers with fast and efficient service . Each of our regional executive sedan companies are based in the local areas they serve, allowing for more competitive rates and more locally tailored service.
Worldwide Service
Our partnership with Flyte Tyme Worldwide strengthens and enhances our worldwide ground transportation offerings to our customers.
Our integrity at ETG has earned your trust in Metro New York, and we've raised the bar with the highest standards to address the executive sedan service needs of the corporate traveler at very reasonable rates.
Event Planning
We provide planning and ground transportation services for various types of events for all types of clients, for industries as diverse as financial services and fashion. We will provide on-site personnel as needed to help your corporate travel management teams coordinate ground transportation to make sure your event goes smoothly and exactly as planned. We can provide you with equipment ranging from Executive Sedans to custom motor coaches.
One Stop Shopping
ETG can assist you in managing your ground transportation needs worldwide, providing a one stop shop to reservations, billing and overall policy management and cost control. For more information please contact us at (800)546-6236, or email us at sales@executivecharge.com